Thank you for your interest in supporting PFS!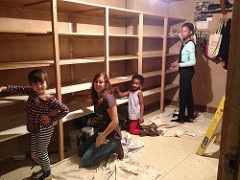 Students and adult volunteer repainting shelves together
We are so appreciative of all the ways our school is supported by the wider community. Here are some ways you can help:
Make a donation using the form on the right side of this page, which will be processed securely through Paypal.
Ask your employer to match your donation through the United Way Donor Choice Program. Our code is 50581.
Donate something on our Wish List!
Support us while you shop
Volunteer!

Volunteers have provided hundreds of hours of service to PFS. Attend an Open House to learn more about us and introduce yourself, then contact us to discuss how you can be part of the school.
Spread the word!
Follow us on Facebook, Instagram, Twitter and Pinterest